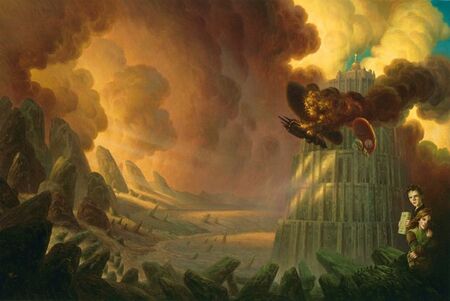 Shrike in the World to Come is the final chapter in A Darkling Plain. It goes over the world hundreds of years after the fall of the Traction Cities. Shrike awakes, seeing that Tom and Hester's bodies have completely decayed, and sees a young boy and a girl standing in front of him. He says "HELLO", his voice even rustier. He sees that the people there had hung flowers around his neck for luck each year, them thinking that he was an old statue. The children take Shrike to a town hall, and he sees that the walls were made of Traction Cities' tracks, and watchtowers were made of wheels. He expects that there are no machines in this world, but he sees that airships are still in use, powered by magnetic levitation. Shrike realizes that the Traction Era is over, because when he asks the townsfolk if there are any moving cities in the world, they say that moving cities only exist in fairy tales. They ask Shrike what he is for, and he states that he is a Remembering Machine. He then tells the townsfolk that he remembers the age of the Traction Cities, London and Arkangel, Thaddeus Valentine and Anna Fang, and Hester and Tom . Then Shrike begins to tell the people his story, starting with the first line of Mortal Engines, revealing that he is the narrator of the series.
Ad blocker interference detected!
Wikia is a free-to-use site that makes money from advertising. We have a modified experience for viewers using ad blockers

Wikia is not accessible if you've made further modifications. Remove the custom ad blocker rule(s) and the page will load as expected.