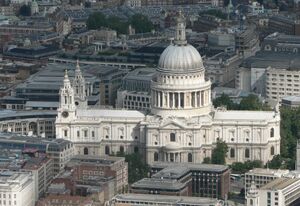 St Paul's Cathedral is a historical building in London.
Originally, it was built in the 1200s, serving as the principle church for London. However, it burnt down in the Great Fire of London, and the current design was planned by Sir Chrisopher Wren. It was famous for not being bombed a single time during World War II, despite the area around it being completely destroyed.
Somehow, it managed to survive the Sixty Minute War, and when London became a Traction City, the cathedral was transferred onto Tier 1 (Top Tier). It was used first as a museum before all artifacts were replaced to the Tier Three Guild of Historian's museum.
It may have become a place of worship, perhaps a pantheon of several Gods, however it is not known. Eventually, it was 'closed' for repairs, possibly after damage from The Big Tilt.
The Guild of Engineers were in fact building the foundations for the MEDUSA Device inside. Hester Shaw was taken inside. It is presumed after MEDUSA imploded and destroyed almost all of London that St Paul's did not survive. It was stated several times that the stone building had been rather rattled by London's traction journies and so was already vulnerable.